Annual Meeting 2015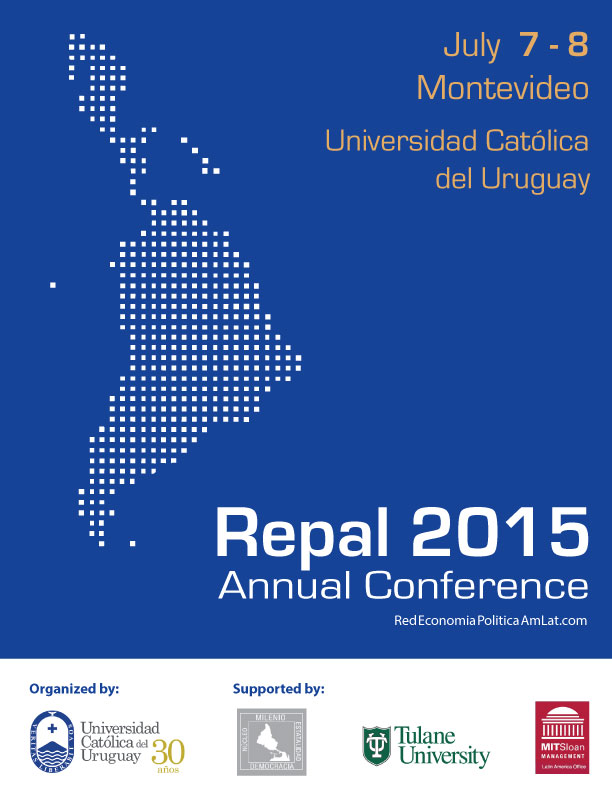 The Department of Social and Political Sciences at the Universidad Católica del Uruguay (UCU, Montevideo) will host the 2015 Repal conference, in 7-8 July 2015.  Juan Bogliaccini (UCU) will chair the local organizing committee, and Ben Ross Schneider (MIT) and Angélika Rettberg (UNIANDES) will serve as program chairs.
The program committee welcomes proposals that tackle important puzzles and problems, both theoretical and practical, in the political economy of Latin America.  Paper proposals (no more than 500 words) should be grounded in solid empirical field research employing whatever methods are appropriate to the research questions.  Proposals, papers, and presentations can be in English, Spanish, or Portuguese.
Submission deadline for paper proposals is 15 December 2014. Send proposals to repalconference@gmail.com. Notification of acceptance will come by late January 2015.
Download the call for papers here.
Download the forms here.
CONFERENCE PROGRAM. Please note that the program is subject to further changes.
REPAL 2015 Papers:
Urdinez, Domestic Coalitions and International Trade
REPAL 2015 Book Panels:
Daniela Campello.  The Politics of Market Discipline in Latin America: Globalization and Democracy.
Eduardo Dargent. Technocracy and Democracy in Latin America.
Isik Ozel.  State-business Alliances and Economic Development:  Turkey, Mexico, and North Africa.
Hillel Soifer.  Authority Over Distance: Institutions and Long-Run Variation In State Development In Latin America.