Annual Meeting 2015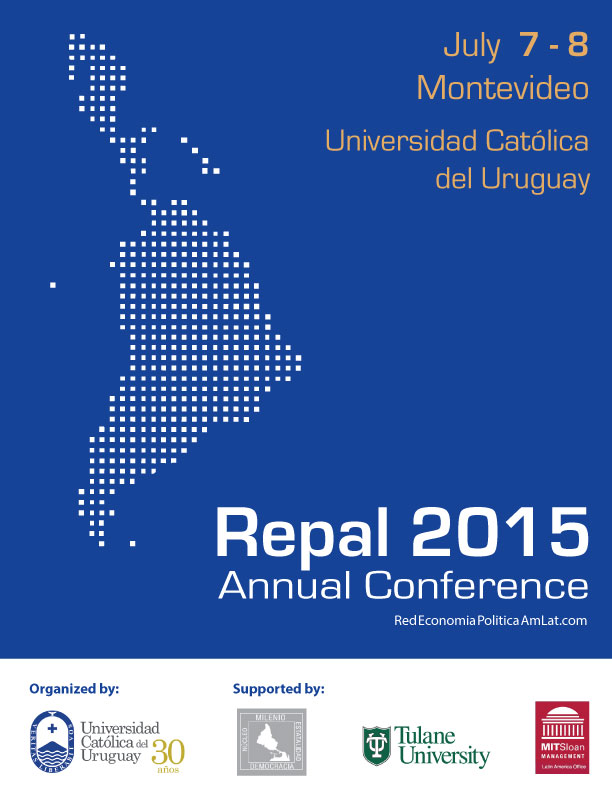 The Department of Social and Political Sciences at the Universidad Católica del Uruguay (UCU, Montevideo) will host the 2015 Repal conference, in 7-8 July 2015.  Juan Bogliaccini (UCU) will chair the local organizing committee, and Ben Ross Schneider (MIT) and Angélika Rettberg (UNIANDES) will serve as program chairs.
The program committee welcomes proposals that tackle important puzzles and problems, both theoretical and practical, in the political economy of Latin America.  Paper proposals (no more than 500 words) should be grounded in solid empirical field research employing whatever methods are appropriate to the research questions.  Proposals, papers, and presentations can be in English, Spanish, or Portuguese.
Submission deadline for paper proposals is 15 December 2014. Send proposals to repalconference@gmail.com. Notification of acceptance will come by late January 2015.
Please send your paper in PDF format to repalconference@gmail.com. The deadline is Today, July 1st, 2015.
CONFERENCE PROGRAM (subject to further changes)
REPAL 2015 Papers:
Opening Keynote: Rethinking Productive Development, Ernesto Stain
Amengual, Who Gets What Out of Extractives 
Andrade, Déjà Vu: Retorno de la ISI en Ecuador
Ancochea & Martínez, Social Policy Architectures
Bensusán & O'Connor, Innovation in Policy Making in City Governments 
Bianchi, Fuentes, & Pittaluga, Capacidades Estatales y Desarrollo Productivo
Bril-Mascarenhas, The Politics of Pension Regulation 
Bonvecchi & Simison, Fiscal Federalism and Lawmaking under Authoritarianism
Botelo & Kasahara, Policy- Entrepreneurship or Policy -Opportunism?
Carnes & Mares, Explaining the "Return of the State" in Middle-Income Countries
Doner & Schneider, The Middle Income Trap
Dossi, La Elite Corporativa Industrial en los Años Noventa
Heredia & Nemiña, Role of Heterodoxy in Argentinian Neoliberalism
Hochstetler, Green Industrial Policy and Industrial Energy Transition 
Horihuela, Polanyi in the Peruvian Amazon 
Kaplan, The China Boom in Latin America 
Madrid, Origins of Democracy in Chile
Mahon, Models of Public Finance
Mejia Guinand, Changing Role of Central Planning 
Monsalve & Puerta, Corporate Networks and Consolidation
Murillo & Mangonnet, Redistributive Conflict over Commodity Rents
Niedzwiecki, Social Policies, Attribution of Responsibility, and Political Alignments
Olivera & Urdinez, Domestic Coalitions and International Trade
Panther, Global and Domestic Inequalities 
Rodríguez W., Impulsando la Desigualdad de Mercado, Chile
Schneider, Democratic Deepening and International Insertion 
von Schiller, Business Organisations, Party Systems and Tax Composition  
REPAL 2015 Book Panels:
Daniela Campello. The Politics of Market Discipline in Latin America: Globalization and Democracy.
Eduardo Dargent. Technocracy and Democracy in Latin America.
Isik Ozel.  State-business Alliances and Economic Development:  Turkey, Mexico, and North Africa.
Hillel Soifer.  State Building in Latin America, Introduction