Past Events
2017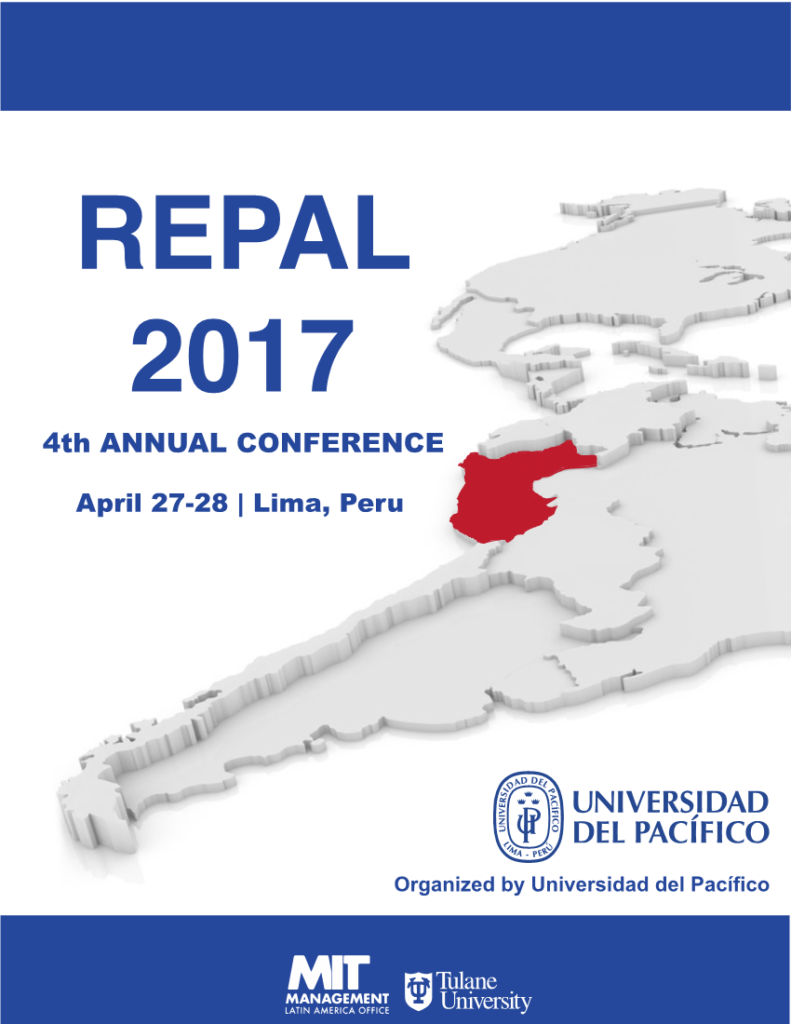 REPAL's 2017 Annual Meeting was held at Universidad del Pacifico (Lima, Peru) on April 27 and 28, and included presentations of 49 papers and 5 book manuscripts. The conference was opened with a keynote address by Maria Hermínia Tavares de Almeida (Universidade de São Paulo & CEBRAP) on the political economy of reducing inequalities and closed with a panel discussion on the political economy of Peru, with presentations by Paula Muñoz (Universidad del Pacífico), Piero Ghezzi (Economist, Founder and CEO GPD Partners, Former Minister of Production), Iván Lanegra (Universidad del Pacífico and PUCP), Norma Correa (Pontificia Universidad Católica del Perú), and Julio Cotler (Instituto de Estudios Peruanos).
The REPAL 2017 Program can be downloaded here.
2016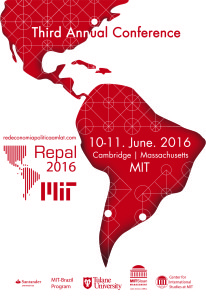 REPAL's 2016 Annual Meeting was held at MIT on June 10 and 11 and included presentations of 47 papers and 3 book manuscripts. The conference was opened with a keynote address by Barbara Stallings (Brown University) on China-Latin America relations and closed with a panel discussion on the political economy of the United States, with presentations by Jorge Dominguez (Harvard), Tom Kochan (MIT Sloan), Chappell Lawson (MIT), and Charles Stewart (MIT). It also featured a discussion about the DA-RT initiative, led by Evan Lieberman (MIT).
The REPAL 2016 Program and the REPAL 2016 DART Discussion Summary can be downloaded here.
The REPAL 2016 Best Paper Committee has awarded the Best Paper Prize to Matthew Amengual's "Buying Stability: The Distributive Outcomes of Firm Responses to Risk in the Bolivian Mining Industry". The committee considered that the paper is making a strong theoretical and methodological contribution to the study of political economy in Latin America. The original data collected by the author through fieldwork and a survey in four mining enclaves in Bolivia is particularly noteworthy.
The runner-up to the Best Paper Prize is Kathryn Hochstetler's "Electricity Consumption in Brazil and South Africa: Distributive Coalitions and Consequences".
The committee also selected the first Best Graduate Student Paper Award, which goes to Diego Díaz-Rioseco's "Blessing and Curse: Oil and Subnational Politics in the Argentine Provinces".
2015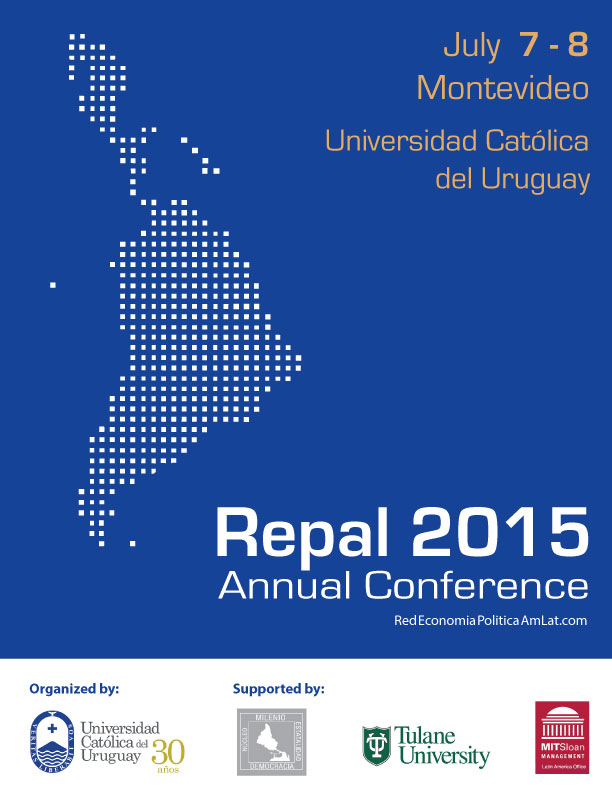 The Department of Social and Political Sciences at the Universidad Católica del Uruguay (UCU, Montevideo) hosted the 2nd REPAL Annual Conference, on  7-8 July 2015.  Juan Bogliaccini (UCU) chaired the local organizing committee, and Ben Ross Schneider (MIT) and Angélika Rettberg (UNIANDES) served as program chairs.
REPAL 2015 Papers:
Opening Keynote: Rethinking Productive Development, Ernesto Stain
Alcañiz & Berardo, A Network Analysis of Transboundary Water Cooperation
Altman and Pérez-Liñán, Can Sustained Growth Hinder Democracy?
Amengual, Who Gets What Out of Extractives 
Andrade, Déjà Vu: Retorno de la ISI en Ecuador
Bensusán & O'Connor, Innovation in Policy Making in City Governments
Bergman, Property Crime and Secondary Markets in Latin America
Bhaven and Shadlen, TRIPS Implementation and Secondary Pharmaceutical Patents
Bianchi, Fuentes, & Pittaluga, Capacidades Estatales y Desarrollo Productivo
Bogliaccini & López, Local Human Capital Inequality
Bonvecchi & Simison, Fiscal Federalism and Lawmaking under Authoritarianism
Botelo & Kasahara, Policy- Entrepreneurship or Policy -Opportunism?
Bril-Mascarenhas, The Politics of Pension Regulation 
Carnes & Mares, Explaining the "Return of the State" in Middle-Income Countries
Camacho, Political Origins of Preferences for Redistribution
Carrillo, Substitutability and Sustainability in Brazil
Davies & Falleti, Who Participates? Local Community Participation
Doner & Schneider, The Middle Income Trap
Dossi, La Elite Corporativa Industrial en los Años Noventa
Freytes, The Cerrado Is Not the Pampas
Garriga, Determinants of Central Bank Independence
Garriga & Phillips, Criminal Violence and the Subnational Distribution of FDI
Heredia & Nemiña, Role of Heterodoxy in Argentinian Neoliberalism
Hochstetler, Green Industrial Policy and Industrial Energy Transition 
Kaplan, The China Boom in Latin America
Leiras & Others, A Call to Arms
López & Luna, Elite strategies of State Bifurcation in Unequal Democracies
López Cariboni & Menéndez, When Dualization Benefits Outsiders
Luna, Unpacking the State's Uneven Territorial Reach
Jiménez Fontana, Exoneraciones Fiscales en Costa Rica
Madrid, Origins of Democracy in Chile
Mahon, Models of Public Finance
Mejia Guinand, Changing Role of Central Planning 
Monsalve & Puerta, Corporate Networks and Consolidation
Muñoz & others, Elites Regionales en el Perú
Murillo & Mangonnet, Redistributive Conflict over Commodity Rents
Niedzwiecki, Social Policies, Attribution of Responsibility, and Political Alignments
Olivera & Urdinez, Domestic Coalitions and International Trade
Orihuela, Polanyi in the Peruvian Amazon 
Panther, Global and Domestic Inequalities
Paredes & Orihuela, There is a "Social Resource" Curse?
Rettberg, Peace Under the Magnifying Glass
Rivera, Human Capital Formation
Rodríguez W., Impulsando la Desigualdad de Mercado, Chile
Salazar & Waltenberg, Desigualdade de renda e demanda por redistribuição na América Latina
Sánchez & Martínez, Social Policy Architectures
Schneider, Democratic Deepening and International Insertion 
von Schiller, Business Organisations, Party Systems and Tax Composition  
REPAL 2015 Book Panels:
Daniela Campello. The Politics of Market Discipline in Latin America: Globalization and Democracy.
Eduardo Dargent. Technocracy and Democracy in Latin America.
Isik Ozel.  State-business Alliances and Economic Development:  Turkey, Mexico, and North Africa. Introduction & Chapter 1
Hillel Soifer.  State Building in Latin America, Introduction 
2014
On the 9th and 10th of June 2014 was held in Santiago de Chile REPAL´s first annual conference, ¨Conference on New Knowledge Frontiers in the Political Economy¨ hosted by the Institute of Political Science of Pontificia Universidad Católica de Chile with support from MIT Sloan Latin America Office.
The event gathered 80 scholars working on the political economy of Latin America. Take a look at the program.
Papers presented at the 2014 annual meeting are presented by alphabetical order (by the name of the first author):
Albertus, Michael. Autocracy and Redistribution: The Politics of Land Reform
Alcañiz, Isabella. Bureaucrats, Skills, and Cooperation: Transgovernmental Networks in Nuclear Energy, Science, and Technology (NEST)
Bauer, Kelly. Land Versus Territory: Incorporating Indigenous Demands into Land Policy
Bogliaccini, Juan. Party-labor dynamics and models of capitalism in LA
Boschi, Renato ; Gaitan, Flavio. Dimensions of new development strategies in Brazil, Mexico, Argentina and Chile
Botelho, Antonio; Kasahara, Yuri. Brazilian "developmental state" reloaded? Brazilian industrial policy for theoil and gas in the 21st Century
Bril Mascarenhas, Tomás. The Politics of Financial Systems in Latin America. The Untold Political Economy of Argentina's Stock Market Underdevelopment
Campello, Daniela. Merit and Luck: Presidents'  Performance and the World Economy
Carnes, Mathew. Redefining who's "in" and who's "out": Explaining Preferences for Redistribution in Bolivia
Castiglioni, Rossana. Paths to Welfare: Social Protection in Chile and Uruguay (1880-1973)
Dargent, Eduardo. ¿Extraer para Educar? Boom de Commodities, Cambio Institucional y Universidad Pública en el Perú
Dewey, Matias. Economic Policies in the Shadow: A Political Economy of Sweatshops and Clothing Consumption
Dossi, Marina. La representación corporativa del empresariado industrial argentino en el período 1999-2003. Un estudio de la Unión Industrial Argentina
Fairfield, Tasha. Taxation in Latin America
Falleti, Tulia;  Riofrancos, Thea. "Participatory Democracy in Latin America: The Collective Right to Prior Consultation in Ecuador and Bolivia
Feierherd, Germán. Enforcement of taxes and regulations
Feldmann, Andreas; Luna, Juan Pablo. Turning Weak States Weaker? Economic Growth During the Commodity Boom
Finger, Leslie. Variation in teachers' unions' influence on education policy
Flores-Macías, Gustavo. Building Support for Tax Reforms in Developing Countries: Experimental Evidence from Mexico
Freytes, Carlos. The Cerrado is not the Pampas: Explaining Tax and Regulatory Policies on the Soy Sector in Argentina and Brazil
Garay, Candelaria. Social Protection in Latin America: Transformations and Challenges
Gonzalez, Francisco. Freedom for Few: Mexico under Mismatched Monopolies and Prospects for Positive Change
Haslam, Paul. The Contentious Micro-Politics of Corporate Responsibility in Mining-Affected Communities
Hochstetter, Kathryn ; Tranjan, Ricardo. The Centrality of Side Effects: Environment and Consultation in the Renewed Developmental State in Brazil
Leiras, Marcelo; Figueroa, Valentín. Tierra, clubes y poder: la influencia política de los terratenientes en las repúblicas oligárquicas. Evidencia de Argentina (1880-1912)
Lima Renato; Liby Martin. The Commodity Boom and Development: New Evidence from Brazil
López, Dorotea; Muñoz, Felipe. Las exportaciones de servicios como estrategia de valor agregado
Luna, Juan Pablo. Segmented Representation. Political Party Strategies in Unequal Democracies. (book presentation)
Madariaga, Aldo. The political economy of neoliberal continuity: comparing Chile and Argentina(1975-2010)
Maillet, Antoine. Varieties of neoliberalism: a framework for cross-sectoral research on public policies in markets
Manky, Walter. Negociando los márgenes:  Las trayectorias de la subcontratación laboral minera en Chile y Perú
Mejia, Andrés; Arellano-Yanguas, Javier. Extractive Industries, revenue allocation and local politics
Mota Prado, Mariana. Institutional Bypasses in Brazil: Creating Institutional Competition in the Provision of Government Services
Muñoz, Paula; Monsalve, Martín. Boom económico y cambios en las élites regionales en el Perú (2000-2013)
Murillo, Vicky;  Pinto, Pablo. Distributive Conflict over the Commodity Boom: Incentives for Rural Protests in Argentina
Orihuela, José Carlos. Converging Divergence: The Diffusion of the Green State in Latin America
Otero, Silvia. The subnational dimensions of social development
Palmer-Rubin, Brian. Interest Organizations and Distributive Politics: Small-Business Subsidies in Mexico
Panther, Stephan; Flechtner, Svenja. Towards a Political Economy of the Middle Income Trap: Evidence from Latin America
Paredes, Maritza. Beyond Mobilization: Indigenous and State Actors in the Making of Policy
Penfold, Michael;  Corrales Javier; Hernández, Gustavo. Los Invencibles: La Reelección Presidencial y los Cambios Constitucionales en América Latina
Pribble, Jenny. The Politics of Building Institutional Effectiveness in Chile
Pezzola, Anthony. The local road PTAs: subnational interests and Mexico´s trade agreements
Post, Alison. Foreign and Domestic Investment in Argentina: The Politics of Privatized Infrastructure (book presentation)
Rodríguez Franco, Diana. Green Governance in the Amazon: Regulating through Natural Protected Areas and Indigenous Territories
Schneider, Aaron. Class Alliances and Political Institutions in Indian and Brazilian Finance
Schneider, Ben Ross. Delicate Dynamic:  Business, Government, and Industrial Policy in Latin America
Schrank, Andrew. Deutschland Unter Alles? The German Roots of Latin American Vocational Training Institutions
Shadlen, Ken. International Change and National Responses: Social Coalitions and Patent Politics in Latin America in the 1990s
Silva, Eduardo. The Political Economy of the Second Incorporation of Popular Sectors in the Political Arena: Venezuela, Bolivia, and Ecuador
Sweet, Cassandra. The New Political Economy of Pharmaceuticals in Latin America
Tommasi, Mariano; Chudnovsky, Mariana; Sidders, Mercedes. Las Políticas de Desarrollo Productivo
2013
The conference ¨La nueva economía política de América Latina: Estado, política y sociedad durante el Commodity Boom¨ was held on the 14th and 15th of August 2013, in Santiago de Chile. Bringing together scholars from across the Americas, the conference touched upon a wide range of political economy issues to explore current research topics and build relationships between experts.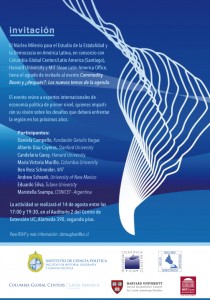 Earlier the same year, on the 11th and 12th of April the symposium ¨Latin American Political Economy Scholarship: The State of the Art¨was held in New Orleans. The open event examined the drivers of economic advance and of development.